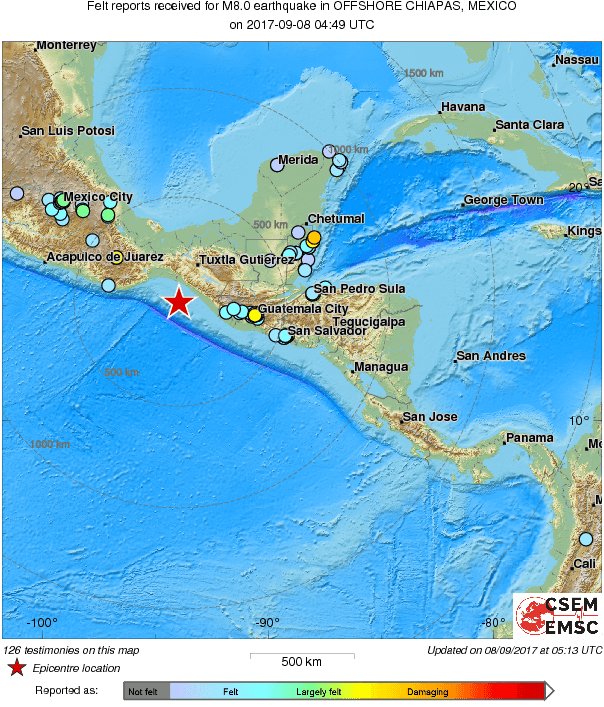 I hate succumbing to the detestable "didn't I tell you?", but it looks like our beloved Mother Earth insists in siding with me lately… and, to be honest, I hate to be right about this. I hope it never happens here what I think is going to happen, what can happen, the same that happened in my world…Whatever it is, whatever it happens, what it looks pretty obvious at this point is that Mother Nature is steaming at all levels…
…So, YES, here we go again…a new quake shook the earth, last night. A massive one this time, an 8.4 magnitude that took place by the South Pacific coast of Mexico. The biggest one since the 8.1 which devastated the country's Capital in 1985 and killed at least 5 thousand people.
Several people are reported dead, I'm always so sorry for the victims… It's so fresh yet, though, not many news available. There was a Tsunami alert for what I know, we'll learn more during the following hours, but we can take one thing for sure, we like it or not, the earth is reactivating… now in the Pacific Ring of Fire… And once again, I go back into the same, I think that big changes are waiting for us… I can feel it in the bones.
So… what will be next? Should we be waiting for the Big One at California now???
…Oh, well, as usual, I just hope to be wrong.
http://edition.cnn.com/2017/09/08/americas/earthquake-hits-off-the-coast-of-southern-mexico/index.html